The Weather's Warming Up – It's Outdoor Fitness Time!
December, 2018
Urban Fitness Solutions are qualified experts in integrated health and fitness, providing outdoor personal training and outdoor group fitness training at a Sydney location near you.
The days are getting warmer and the last thing you want to do is head to an indoor gym for a workout on a gorgeous day. So why not get back to nature and replicate your workout outdoors? Here are five benefits you'll likely experience.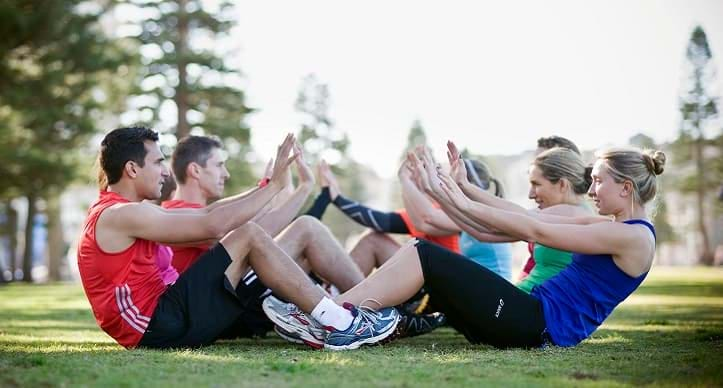 1. Improved Mood and Reduced Depression
Research [1] shows that compared with exercising indoors, exercising in natural environments is associated with greater feelings of revitalisation, increased energy and positive engagement, together with decreases in tension, anger and depression. There is also a greater intent to repeat the activity.
2. Exercise for Your Mind
When you exercise outdoors, your mind is aware of the changing terrain. Whether you use the hills, the sand on a beach, or a winding path, your mind has to focus differently than it would on a flat gym floor, which is a positive mental challenge.
3. A Dose of Vitamin D
Vitamin D is sometimes called the 'sunshine vitamin' because it's produced in your skin in response to sunlight. It has several important functions including promoting bone growth, preventing osteoporosis, and boosting your immune system. [2] It's also known to help stave off depression, and may also assist in weight loss.2 Although vitamin D supplements are widely available, there is no substitute for good old-fashioned sunlight.
4. A Harder Workout
Outdoor exercise provides an opportunity to be physically active in a constantly changing environment. Whether you're running on the beach or hiking up a mountain, the more challenging the terrain, the harder the body has to work to sustain an efficient work rate. Additionally, a constantly changing surface can enhance the strength of your connective tissue, which may help you avoid certain injuries. Although cardio machines in the gym do provide benefits, doing the same movement repeatedly can potentially cause repetitive strain injuries.
5. Enhanced Social Network
Using your local park for group exercise is a great way to expand your social network and even meet your neighbours. While exercise can enhance your physical health, being connected with your community and having a number of positive relationships can help improve your mental health as well.
Contact Us Download Our E-book