How to Setup a Health & Wellbeing Program in Your Office
May, 2019
Urban Fitness Solutions are qualified experts in integrated health, providing personal fitness coaching at a Sydney location near you.
It's no big secret that a large corporate or small office environment can be a breeding ground for negative health habits, a lack of self-awareness and a surge in daily stress and anxiety levels. That's why it's extremely important for employers to understand their company's health and wellbeing situation as a whole. Employers should create some goals to reach an overall wellbeing status amongst the staff, kick-start some positive initiatives to drive a movement of change, and instil a culture of value and self-respect amongst colleagues.
By setting up a health and wellbeing program within your office, you are highlighting the importance of mental and physical wellbeing awareness. Research has shown that corporate health and wellbeing programs instil physical, mental and financial benefits to the employer too, not just the employee. Still not convinced this is important? Further research has shown the following benefits have arisen from company wellbeing programs: a community feel among employees, an increase in staff resilience, better focus, concentration and time management of respective workloads, a boost in employee trust, satisfaction and engagement, and an overall improvement in workplace morale.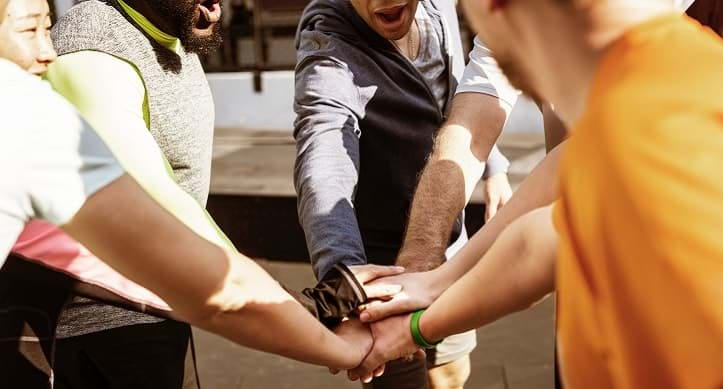 So, you're on board with this movement – now what? There is a long list of possible initiatives to incorporate into your office health and wellbeing program. Such initiatives include but are not limited to the following: holding fortnightly/monthly workshops by trained Holistic health experts with how to manage the work/life balance, positive psychology sessions as a team, corporate fitness and/or yoga classes, meditation and relaxation techniques and team building activities – all of these are tried and true examples of ways you can really benefit mental and physical wellbeing in your office.
Kick-start the process with...
Staff surveys
The very first step in implementing an office-wide health and wellbeing program is to actually get a gauge on what the current mental and physical health status is, according to the very people you want to help – your employees themselves. Draw up a survey that gets your staff thinking about their current position on the scale of negative to positive. Draw attention to specific factors in the workplace such as support levels, self-value, work environment, team bonding and any other unique components that could affect staff within your company. Once you've collected the surveys, highlight the areas which are most prevalent across the board, and use these as your main focus point to start implementing health and wellbeing changes.
Promote the plan with...
An office-wide introduction
Make sure the plan is brought to people's attention sooner rather than later. After the survey has been conducted, the results gathered, and some initiatives decided upon, present this case-study to your employees so they know what's up and coming. A face-to-face address is more personal and connecting than an office-wide email – but you may not have the capacity to speak to everyone as a group. However, you choose to promote the health and wellbeing plan, make sure it's appropriate to your work culture and the sorts of people you have in your team. As long as it gets on people's radars quickly, your engagement will start high and will maintain momentum.
Weekly timetable for wellbeing initiatives
Whether you've decided on one, three or seven weekly health and wellbeing initiatives, get these locked into a timetable that your staff can use to plan their weeks ahead of time and pick the most feasible options for their individual schedules. Space the sessions out so that the week has variety and not the same sort of theme back-to-back. For example: Monday – team breakfast with everyone bringing a plate to share, Tuesday – 3pm Positive Psychology Session, Wednesday – early morning or midday corporate yoga classes, Thursday – team building Thursdays (activity-based hour in the day split into teams), Friday – morning meditation and reflection on the week. Allow for employees to pick and choose what they feel comfortable participating in, and what they'd rather give a miss. Not everyone enjoys a yoga session, but that's not to say they won't jump straight into the team-building Thursdays!
Create atmosphere by...
Refreshing the office layout, furniture & décor
The aesthetic environment of your office can play a massive part in the overall morale and contentment of your employees. Did you know that office greenery and indoor plants have been proven to boost mental health simply due to their injection of colour and life to an interior space? Not only that, but plants have a positive impact on breathing patterns and office air-circulation. When it comes to the layout as a whole, consider arranging the seating plan according to personality-types rather than teams or specific roles. This fun twist on staff-placement can really boost communication levels between people who may not usually feel confident to participate and encourages the staff to get to know one another outside of their usual team structures. Furniture is also a massive factor in creating a positive aesthetic vibe – if economically possible; incorporate a variety of sitting areas and open-meeting spaces through use of casual-corporate couches, foldaway/moveable walls and light-n-bright table/chairs to encourage a welcoming communal space.
Maintain ongoing staff engagement by...
Creating a "suggestion box"
Remember at school when the teacher would leave a box up the front of the class and students could place individual suggestions as to what they wanted more/less of within the class culture/curriculum? Don't underestimate how much insight you can gain as an employer by simply allowing your staff the ongoing opportunity to suggest what they might like to see/do when at work. Keep it focused to health and wellbeing if possible, give the box an appropriate name, and review it monthly to give anonymous holistic entrepreneurs the chance to say their piece!
Get the extra help where needed
If your office space needs revitalising or perhaps you need to move office to help implement some of these improvements, get in touch with our friends over at John Ryan Removals. They're a team of experts that provide office removal services to assist with any furniture/relocation requirements. Whether you're getting new couches, removing old desks, or installing new cabinets, they'll help rejuvenate your office space in no time!
To help implement a health and wellbeing program in your office, Urban Fitness Solutions are here to help. We have experience working with a range of businesses and can formulate a program to improve your businesses performance. Call or contact us today and let's kick-start a healthier future for your office.
Contact Us Download Our E-book