Healthy Eating - Where Do I Start?
February, 2019
Urban Fitness Solutions are qualified experts in health coaching, providing personal training and nutrition advice at a Sydney location near you.
The foods you eat significantly impact on your health and quality of life. In many ways, food is a kind of medicine.
Although eating healthy can be fairly simple, the rise of fad or trend diets, such as Low Carb, Keto and Paleo, has caused a lot of confusion – so much so that navigating your taxes sometimes feels like a simpler task!
These fads or trends often distract people from the basic nutrition principles that are most important. So, let's get back to some evidence-based basics that underpin healthy eating.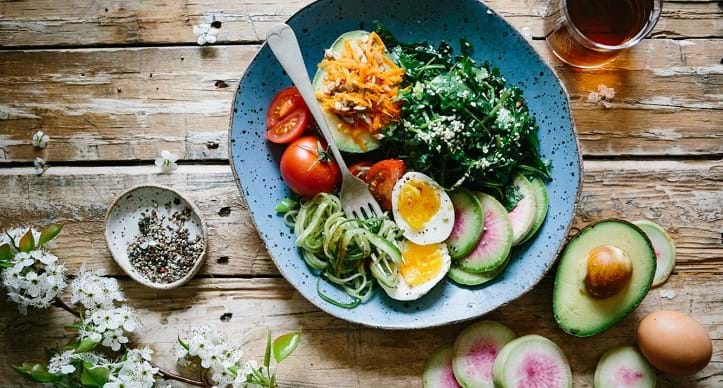 Calories and Energy Balance
In recent years, the importance of calories has been pushed aside. While you don't always need to count calories, total calorie intake each day still plays a role in weight control and health, regardless of the composition of your diet.
If you want to lose weight, you must create some sort of calorie deficit, and if you want to gain weight and increase muscle mass, you need to eat more calories than your body burns. It's pretty simple in that sense.
Macronutrients
Macronutrients are the three main nutrients needed in large amounts in the body. They are carbohydrates, fats and protein.
Carbohydrates: Contain 4 calories per gram. They include all starchy foods like bread, pasta and potatoes, as well as fruit, legumes, juice, sugar and some dairy products.
Protein: Contains 4 calories per gram. The main sources include meat and fish, dairy, eggs, legumes and vegetarian alternatives like tofu.
Fats: Contain 9 calories per gram. The main sources include nuts, seeds, oils, butter, cheese, oily fish and fatty meat.
How much of each macronutrient you should consume depends on your lifestyle and goals, as well as your personal preferences. It can help to work with a nutrition coach and personal trainer to determine these.
Focus on Eating Wholefoods
You should aim to consume whole foods at least 80-90% of the time.
"Whole foods" generally describes food that are natural, unprocessed and contain only one ingredient. If the product looks like it was made in a factory or comes in packaging, then it's probably not a whole food.
Whole foods tend to have fewer calories and more nutrients per serving than processed foods, which are often referred to as "empty calories".
Basing your diet on whole foods is an extremely effective but simple strategy to improve health and lose weight.
Foods to Eat and Drink
The foods you should try and base your diet on to obtain all the nutrients your body needs, include:
Vegetables
Fruits
Meat and fish
Nuts and seeds
Eggs
Dairy
Healthy starches such as quinoa
Beans and legumes
Water
Foods to Avoid
While no foods are strictly off limits, over eating certain foods can increase disease risk and lead to weight gain. These include:
Foods high in sugar, especially sugary drinks
Trans fats, also known as partially hydrogenated fats
Refined carbohydrates, such as white bread
Vegetable oils. While many people believe these are healthy, vegetable oils can disrupt your body's omega 6-to-3 balance, which may cause problems.
Processed low-fat products, often disguised as healthy alternatives. These usually contain a lot of sugar to make them taste better.
Portion Control
By controlling your portions, you are more likely to avoid consuming too many calories. While whole foods are a lot harder to overeat than processed foods, they can still be eaten in excess.
Some simple ways to control portion size include using smaller plates or taking a smaller-than-average first serving, and then waiting 20 minutes before you return for more.
Another popular approach is measuring portion size with your hand. An example meal would limit most people to 1 fist-sized portion of carbohydrates, 1–2 palms of protein and 1–2 thumb-sized portions of healthy fats.
Combine Good Nutrition with Other Healthy Habits
Optimal health goes way beyond just nutrition. Exercising, getting good sleep, minimising stress levels, and staying adequately hydrated are also crucial.
Another important thing to consider, is how sustainable your new healthy eating plan is. Far too often, people go on extreme diets they can't maintain, which means they never actually develop long-term, healthy eating habits.
At Urban Fitness Solutions we don't believe in health fads, unrealistic goals or short-term health kicks. We're about safe and sustainable exercise and healthy habit formation that lets you perform at your best, long term.
If you could do with a healthy eating coach or a personal trainer to support you in achieving your health goals, we'd love to help!
Urban Fitness Solutions are some of Sydney's top personal trainers who come to you! We work with people 45 years and up to improve health and wellbeing though personal training, group fitness and healthy sustainable eating habits. Contact us today.