Age is no Barrier to Exercise
October, 2018
Most often, when mature people seemingly start to lose their independence, it's not just because they've aged, it's because they've remained inactive throughout their lives. Research tells us that nearly 70% of Australian adults (i.e. almost 12 million adults) are either sedentary or have low levels of physical activity. [1]
Furthermore, muscle weakness, as a result of years of lack of strength training and exercise, is one of the biggest contributing factors to falls and greatly affects the quality of life for seniors. [2]
But it doesn't have to be that way.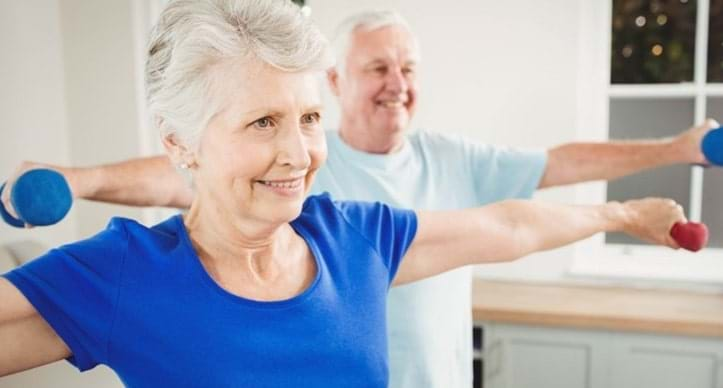 It's never too late to start exercising
Australians now are living longer than ever, and incorporating daily activity into your life, especially as a senior, is more important than ever.
Even if you haven't been a regular exerciser for most of your life, with the right fitness trainers, you can establish a tailored exercise program that meets your specific needs – one that you'll be able to sustain long term.
Granted, your body won't be what it once was and aches and pains may be more frequent, but the more you stay in shape now, the more you can prevent or slow down the symptoms of ageing, such as bone deterioration, slowing metabolism and weakened muscles.
Before you get started, however, it's a good idea to check in with your doctor.
It's all about quality of life as you age
Building your cardiovascular fitness — via activities like walking, running, cycling – is important, but don't neglect building your strength. You want to stay strong and maintain your muscles so you can continue to live an active, independent lifestyle for years to come.
As a senior, motivation to exercise it's less about 'getting ripped' and more about being able to carry in the groceries and climb the stairs. Sure, it's not as sexy-a-reason to train, but it's definitely the more sensible one.
And, by incorporating regular exercise into your daily routine, you may help control blood sugar and insulin levels, reduce your risk of heart disease, improve your mental heath and mood, help keep bones strong, improve balance, and improve your sleep. [3]
Know your body to help avoid injury
No matter what your age, there's no one 'right' exercise program that will suit everyone. It all depends on your body, what you're capable of and what you enjoy doing.
You need to know your body's limitations and what to avoid, and that's where a qualified personal trainer for seniors can really help. They'll design exercises to help you avoid injury, which can be both a physical and mental set back.
Ultimately, however, it doesn't matter if you're lifting weights in the gym, doing outdoor exercises, or walking with friends, anything is better than nothing. The main thing is to focus on what you can do, not what you can't do, and aim for consistency with your exercise. That's where the true results lie.
Want to be inspired by seniors who exercise regularly and love it? Watch these videos.
If you could do with some guidance from some of Sydney's most qualified health and fitness coaches or you know that you'll work harder with the motivation of one-on-one personal trainer, check us out.
Urban Fitness Solutions are experienced, mobile personal trainers and strength and conditioning coaches who come to you! We work with people 45 years and up to improve health and wellbeing though outdoor exercise and developing healthy, sustainable eating and lifestyle habits. Contact us today.
Contact Us Download Our E-book
[1] www.health.gov.au/internet/main/publishing.nsf/content/health-pubhlth-strateg-active-evidence.htm