Choosing a Suitable Running Shoe
December, 2017
Summer is here and the warmer weather might be the motivation you were waiting for to put on your running shoes and start pounding the pavement again. Or, you might even be a first time runner. Whether a beginner or experienced, it is essential to ensure you have a suitable running shoe that's in good condition to avoid pain and injury.
In general, a pair of running shoes should last up to 750 kilometres [1] after the first wear. For a runner doing five 4-5 kilometre runs per week that works out to be a new pair every 5-6 months. Over time, the shock-absorbing foam in the shoes wears down, increasing the risk of overuse injuries such as shin splints and tendinitis.
Take a look at your shoes and check if the midsoles and outsoles are compressed or worn. If they are, it may be time for a new pair.
To help you identify the most appropriate running shoe, you should have a basic understanding of your foot type and running mechanics.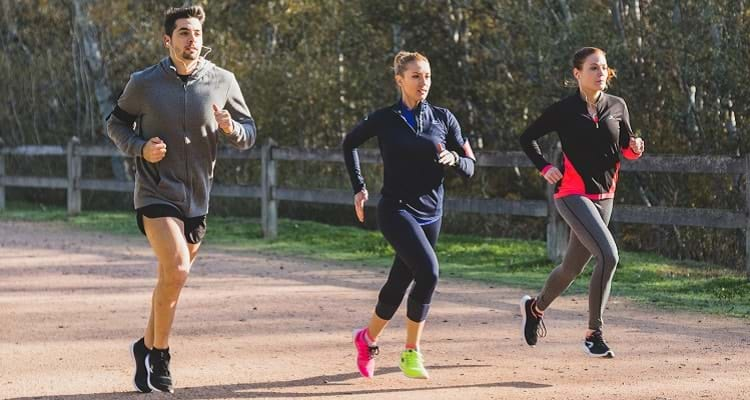 Your foot type
This is determined by the width of your foot and the shape of your arch. Is your foot width broad, normal, or narrow? Do you have a high, normal or flat arch shape? This is important information for achieving overall footwear comfort. Footwear that is more comfortable and suitable for your feet allows you to perform at your best.
When trying on shoes, ask the sales advisor to provide a professional measurement of your foot length and width. That will make it easier to determine your correct shoe size. Many specialist running shoe stores also provide free assessments of your walking/running style as well as how your foot impacts the ground. Knowing this will also help determine best type of shoe for you.
For years it was thought that a particular footwear shape (neutral, stability or motion-controlled shoes) would suit a certain foot arch type, yet from an anatomical and functional perspective this is not entirely correct. In fact, particular arch types have a variety of different foot widths and running techniques and research has shown that assessing foot structures while standing does not neatly predict what the foot does while running. [2]
Today, footwear comfort and function for different arch types can be influenced by technologies throughout the shoe e.g. the material, type of stitching and construction of the upper and mid-sole, the lacing technique, the compound and shape of the sock-liner, etc.
Your running mechanics
Every runner has a different foot function and footstrike (the way your foot makes contact with the ground), both of which affect the cushioning of shoes in various ways. For instance, a heavier runner who runs on their heels may wear out the shoe cushioning faster than a light runner who runs on their toes. If you own a well-used pair of running shoes, check the wear pattern on the soles to help determine your foot function. You'll find it likely falls into one of these three categories:
1. Pronation: If your running shoes are worn out on the inside of the sole, then it is likely that you are a pronator. This occurs when your arch flattens on your strike, causing your foot and ankle to roll inward. This causes stress on the ankles and can create shin splints and cause other lower leg issues.
2. Neutral: Neutral foot strikers show a wear pattern centralised to the ball of the foot and a small portion of the heel. A neutral foot strike occurs when you neither over pronate (roll inwards) nor supinate (roll outwards from high arches). It is when the foot strikes in an effective, efficient manner and typically leads to the least amount of injuries while running or walking.
3. Supination (also called under pronation): This is when you have high arches. It is marked by wear along the outer edge of your shoe. When your foot strikes the ground, much of the cushion of the foot is lost. The foot doesn't flatten at all on impact, and there is little shock absorption. Relatively few runners supinate, but those who do need shoes with plenty of cushioning and flexibility.
When it comes to footstrike there are three categories:
Forefoot striker – contacts the ground with the balls of their feet first.
Mid-foot striker – the whole foot contacts the ground at once.
Heel striker – the heel makes contact with the ground first.
Both your footstrike and foot function will help determine the amount of stability and cushioning you require in your running shoe.
Contrary to previous thinking that a mid- or forefoot striker was the "optimal" foot strike pattern to improve performance and reduce running injuries, recent evidence [3] indicates that changing one's foot strike from a heel striker to a mid- or forefoot striker provides no obvious benefit for the majority of runners, especially recreational runners. In fact, the change in foot strike may result in stressing tissue that is not normally stressed when running with one's habitual pattern, leading to the possibility of incurring a secondary injury.
Go for comfort
It sounds obvious, but comfort is the key to a good fitting running shoe. Identifying what is comfortable will usually be a more intuitive process than a scientific one, but here are some basic things to note.
A proper fitting running shoe should fit snug in the heel and mid-foot with wiggle room around the toes.
Check for proper length and width by pressing your thumb down around the toes. A good fit is half of your thumb's width to your full thumb's width.
Hold the heel of the shoe and try to raise the heel of your foot. There should be little or no movement.
Check the eyelet rows (where the shoelaces go) on either side of the tongue. These rows should be close to parallel with each other.
If you wear orthotics, bring them along, as they will impact the fit of the shoe.
For advice about how to best incorporate running into your exercise routine, contact Sydney's leading over 45s mobile personal trainers and health coaches, Urban Fitness Solutions.
Contact Us
Download Our E-book
---
[1] Verdejo, R. and Mills, N. (2004). Heel–shoe interactions and the durability of EVA foam running-shoe midsoles. [online] Journal of Biomechanics. Available at: http://www.jbiomech.com/article/S0021-9290(03)00485-8/fulltext [Accessed 2 Dec. 2017].
[2] Dicharry, J., Franz, J., Croce, U., Wilder, R., Riley, P. and Kerrigan, D. (2009). Differences in Static and Dynamic Measures in Evaluation of Talonavicular Mobility in Gait. Journal of Orthopaedic & Sports Physical Therapy, 39(8), pp.628-634.
[3] Hamill, J. and Gruber, A. (2017). Is changing footstrike pattern beneficial to runners? Journal of Sport and Health Science, 6(2), pp.146-153.