Exercise for Dementia Prevention
June, 2018
Dementia is the second leading cause of death of Australians.[1] Currently, there is an estimated 425,400 Australians living with dementia, with more women than men known to have the disease (45% males and 55% females).[2]
While there's no certain way to prevent all types of dementia, there's good evidence that a healthy lifestyle can help reduce your risk of developing the disease when you're older.[3]
It can also help prevent cardiovascular diseases, such as stroke and heart attacks, which are, in themselves, risk factors for Alzheimer's disease and vascular dementia – the most common types of dementia.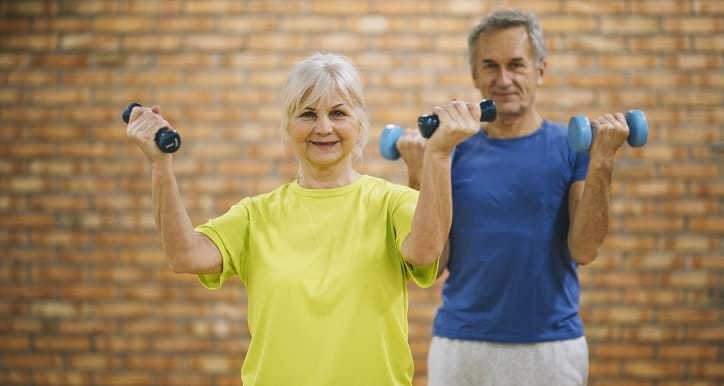 Without a Treatment, Prevention is Paramount
Several research studies have consistently found that regular physical activity in mid and late life is associated with a lower risk of cognitive decline and dementia.[4[
As Dementia Australia explains, physical activity promotes healthy blood vessels, improving blood flow to the brain and the supply of glucose and oxygen that it needs to function well. Physical activity also promotes growth and survival of nerve cells in the brain and has been associated with less shrinkage of the brain with ageing.
A 2013 study [5] from the University of Nottingham, UK, revealed the strongest evidence yet that even moderate exercise can delay the onset of memory loss related to Alzheimer's Disease, which accounts for between 50 and 70 per cent of cases of dementia in Australia. It identified for the first time a stress hormone produced during moderate exercise that may protect the brain from Alzheimer's-induced memory loss.
While exercise as a preventative measure has been proven effective, a trial [6] recently published in the British Journal of Medicine, showed moderate to high intensity exercise does not slow cognitive (mental) impairment in older people who already have dementia. Although the exercise trial group showed improved physical fitness, there were no noticeable improvements in other clinical outcomes, such as number of falls and quality of life.
More research is needed to determine what specific types of exercises could help prevent progression of dementia in those already diagnosed, but for now, focus remains on prevention rather than treatment.
Get Involved in Over 50s Fitness Training
If you're not already exercising regularly in your 50s, it's not too late to start, especially if you're keen to maintain mental health as you age. Finding the right type of exercise for you in the right environment will be key to helping you maintain motivation and seeing results.
Engaging the help of a top personal trainer with solid experience with over-50's fitness training is the best way to start exercising safely.
A skilled trainer will understand the way your body changes as you age and the health challenges that come with it. They will guide you in performing exercises that are tailored to you, underpinned by diet and nutrition coaching advice; stress management strategies; and ways to help you harness the power of your mind to achieve positive behaviour change.  
You really have nothing to lose. Contact us to slow the ageing clock today!
Tap into the benefits of exercise for your mental health and create a fitness program that is tailored specifically to you, with Urban Fitness Solutions. We are experienced, mobile personal trainers who work with people 45 years and up to improve health and wellbeing though outdoor exercise and developing healthy, sustainable eating and lifestyle habits. Contact us today, your local fitness trainers in Sydney.
Contact Us Download Our E-book