Why You Shouldn't Skip Breakfast + Healthy Recipes
February, 2018
People skip breakfast for all kinds of reasons – they're not hungry in the mornings, they think it will help them lose weight, they don't have time, they consider a cup of coffee breakfast, and the list goes on.
As old as the advice is, the truth remains that breakfast is the most important meal of the day, so it really is worth making time for EVERYDAY.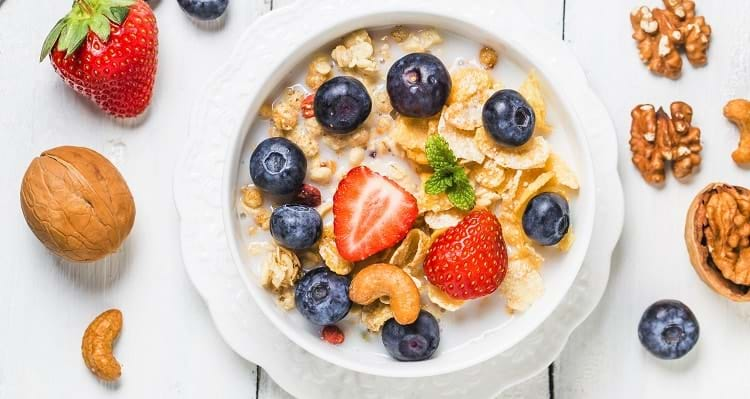 According to Nutrition Australia, eating breakfast regularly:
refuels your glycogen (carbohydrate) stores each morning and improves your energy levels throughout the day
improves metabolism
provides many beneficial nutrients and boosts your fibre and calcium intake (compared to no breakfast).
reduces your chance of over-consuming high calorie foods and too much food later in the day
stabilises your blood sugar levels
improves memory and concentration.
Because the time between dinner and the next morning's meal is the longest amount of time your body goes without food, breakfast has an effect on you that is different from any other meal. Eating within two hours of waking can make a difference to the way you metabolise glucose throughout the day. Your glucose level rises every time you eat, and your pancreas produces insulin to move the glucose into your cells, where it's used for energy. Research has found that keeping glucose and insulin in the right balance throughout the day has important effects on metabolism and health long term.
According to the latest evidence, we should all be aiming to consume around 15–25% of our daily energy intake at breakfast i.e. 300–500 calories for women and 375–625 for men. [1]
And what you eat is just as important. If your breakfast consists of a muffin and a cup of coffee, or sugary cereal and a glass of fruit juice, you're setting the stage for metabolic havoc. Rather choose to start your day with something less sugary that has a lower glycaemic index and will sustain you for longer, such as eggs with wholegrain toast, home made muesli or porridge.
Below are two of our favourite healthy breakfast recipes for you to whip up for yourself and the family.
Apple and Passionfruit Bircher Muesli
Ingredients (serves 4)
2 cups Healtheries Apple & Raisin Bircher Muesli
1 1/4 cups apple juice
1/2 cup thick natural yoghurt
1 Granny Smith apple (skin on), grated
125g strawberries, hulled, chopped
1 tablespoon honey
2 passionfruit, pulp removed
Extra chopped strawberries and thick natural yoghurt, to serve
Method
Place muesli in a bowl. Add apple juice. Stir to combine. Cover with plastic wrap. Refrigerate overnight.
When ready to serve, stir yoghurt, apple, strawberries, honey and half of 1 passionfruit through muesli. Spoon into bowls. Top with extra strawberries and yoghurt. Drizzle with remaining passionfruit pulp. Serve.
Notes: You will need to start this recipe the day before serving.
Apricot, Cranberry and Pistachio Quinoa Porridge
Ingredients (serves 4)
1 1/2 cups quinoa, rinsed, drained (see note)
1 1/2 cups milk
1/2 cup dried apricots, chopped
1/3 cup dried cranberries
1 1/2 tablespoons brown sugar
1/3 cup pistachio kernels, coarsely chopped
Honey, to serve
Method
Combine quinoa and 4 cups cold water in a saucepan over medium-high heat. Bring to the boil. Reduce heat to medium-low. Cook, covered, for 10 minutes.
Stir in milk, apricot and cranberries. Cook, covered, for 10 minutes or until quinoa is tender. Stir in sugar.
Spoon porridge into bowls. Sprinkle with pistachios. Drizzle with honey. Serve.
Notes: Rinse quinoa under cold water until water runs clear. Drain. This removes any outer coating, which has a bitter taste. Quinoa absorbs a lot of liquid. If you prefer porridge that's less thick, add a little extra milk at the end of cooking. Quinoa is available from the health food section of larger supermarkets or from health food stores.
Tip:
For a citrusy tang, add the zest of 1 orange to honey before drizzling over porridge.
If you'd like further health advice around exercise and nutrition coaching, contact us at Urban Fitness Solutions. We're experienced, mobile personal trainers and healthy eating coaches who work with people 45 years and up to improve health and wellbeing though outdoor exercise and developing healthy, sustainable eating and lifestyle habits.
Contact Us Download Our E-book