A Recipe for Thriving This Winter
July, 2018
At Urban Fitness Solutions, we're qualified experts in integrated health and fitness providing health coaching and nutrition coaching. This month, we're taking a look at a hearty recipe to help with your immunity.
The winter season affects the human body just as it does every other part of nature. Our bodies respond to the change in energy and temperature whether we like it or not. As the mercury drops and cold and flu season sets in, we're also more likely to get the sniffles, reach for unhealthy comfort foods and find it increasingly difficult to maintain a healthy diet.
But slipping into unhealthy habits doesn't have to be inevitable.
With a little preparation and knowledge about how to use food as medicine during the winter months, you can stand yourself in good stead for the season.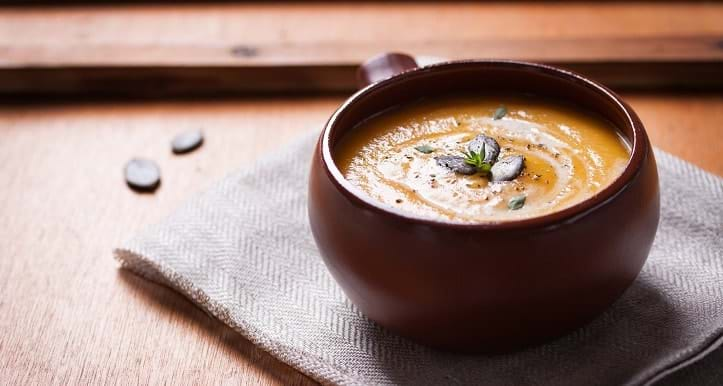 Choose Foods for Immunity
Eating healthy, hearty foods full of vitamins and minerals offers good immune protection during the winter, helping to ward off germs that cause colds and flus. And of course, less illness means less excuses not to exercise!
Increase your intake of immune-boosting fruits and vegetables that are rich in the antioxidants vitamin C and beta-carotene. Such foods include citrus fruits, cabbage, broccoli, pumpkin, sweet potato and spinach. The brighter the vegetables and fruits are, the better they are likely to be for you. And why not get creative with how to consume your veggies? Think juices, stir-fries, baked veggies, and warming casseroles and soups.
To fight off infections, you should also increase your intake of zinc, which is found in lean red meat, seafood, poultry, eggs, milk, and in smaller amounts in unprocessed grains and cereals.
'Pharmacy in a Bowl' – a Healthy Winter Recipe
This lentil soup recipe, titled 'Pharmacy in a Bowl', appears in Charlotte Wood's cookbook, Love and Hunger. It was kindly shared with me by one of our clients and has become a favourite of mine as it's full of vitamin-rich, immune boosting ingredients that will not only keep you healthy, but will also warm you up during the chilly days.
Ingredients
Olive oil
5 cloves garlic finely chopped
1 brown onion finely chopped
2 small red chillies finely chopped
1 celery stick finely chopped
1 leek finely chopped
¼ white cabbage finely chopped
1 red capsicum roughly chopped
3 carrots roughly chopped
3 litres chicken stock
1 head broccoli roughly chopped
1 x 400g can tomatoes in juice
1 cup Puy lentils (also known as 'French-style' or 'blue' lentils)
Salt and pepper
Parmesan cheese grated
---
Method
Sauté the garlic, onion, chilli, celery, leek, cabbage, capsicum and carrots in batches in the oil until well browned.
Put the chicken stock in a big pot on the stove and bring to the boil, tossing in all the sautéed ingredients. Add broccoli and tomatoes, and simmer until all vegetables are tender.
Reserving stock, remove vegetables with a slotted spoon and puree in a food processor or blender until smooth (or roughly blended, depending on how rustic you like your texture).
Return pureed vegetables to stock and add lentils. Simmer for about 15 – 20 minutes or until the lentils are tender (more if you want them falling apart). Season well with salt and pepper.
Serve with a sprinkle of Parmesan.

(Vegetarian option: replace chicken stock with vegetable stock)

If you find yourself struggling to stick to a fitness routine and eat healthy during the winter months, think about engaging a health coach and fitness coach for professional personal training and nutrition advice.
Urban Fitness Solutions are experienced, mobile personal trainers who come to you! We work with people 45 years and up to improve health and wellbeing though outdoor exercise and developing healthy, sustainable eating and lifestyle habits. Contact us today!.