5 Herbs and Spices That Boost Your Health
April, 2018
At Urban Fitness Solutions, we're not only personal trainers, we're qualified experts in integrated health and fitness providing health coaching and nutrition coaching. This month, we've taken a look at herbs and spices.
Herbs and spices are a great way to make your meals tastier and look more fancy, but did you know they're also jam-packed full of health benefits?
For centuries, herbs and spices have been utilised to heal the body, mind and spirit. They can provide anti-inflammatory benefits, act as anti-oxidants, balance blood sugar, improve circulation and cardiovascular health, and more. Best of all, these crucial benefits are mostly available with few calories, so you can enjoy them guilt free.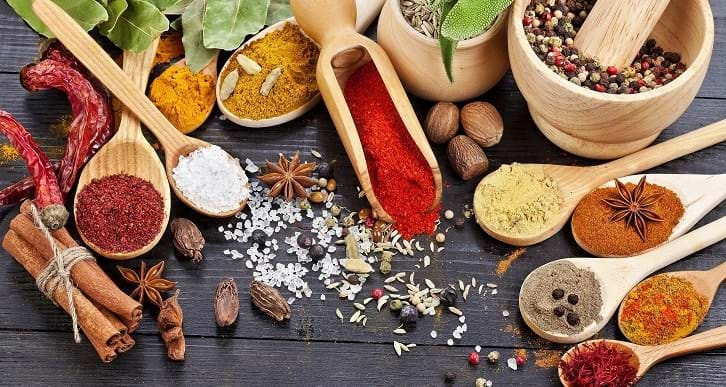 Here are 5 herbs and spices you can easily incorporate into your diet:
1. Basil
This herb has anti-inflammatory and antiviral properties and may help prevent osteoarthritis. [1] It has been used in digestive disorders and is being studied for its anti-cancer properties. Eating it fresh is always best, but dried is ok too as long as it is freshly dried.
2. Cinnamon
The strongest evidence for the benefits of cinnamon lie in its potential to help people with type 2 diabetes better control their blood sugar by lowering-post meal blood sugar spikes. This spice has also been shown to offer antioxidant, anti-inflammatory, anti-microbial and immunity-boosting power, as well as potential cancer and heart disease-protecting abilities. More studies are, however, needed to support these findings. [2]
3. Garlic
Garlic contains a powerful compound called allicin, which is responsible for the aroma of fresh garlic. Studies have shown that it may lower your chances of getting heart disease, and it may even help stop the growth of cancer cells. [3] Eating garlic regularly may help with high cholesterol and high blood pressure. To get the maximum benefits, however, you have to chop or crush the clove. Allicin is formed only after the cells in the garlic have been cut or crushed.
4. Ginger
Ginger is most commonly used to treat various types of stomach issues including motion sickness, morning sickness, colic, upset stomach, gas, diarrhoea, irritable bowel syndrome, nausea and loss of appetite, [4] due to its calming effect on the lining of the digestive tract.
Researchers believe that the chemicals in ginger work primarily in the stomach and intestines, but they may also work in the brain and nervous system to control nausea. [4]
5. Turmeric
This yellow spice has been getting a lot of attention of late, and for good reason. It's a good source of curcumin, an antioxidant that eases inflammation. Research suggests that curcumin may help ease pain and lower the chances of heart attacks, too. [3] Eating even small amounts of turmeric regularly may help prevent or slow down Alzheimer's disease, possibly by helping prevent the brain plaques that lead to dementia. [3]
Most of the studies on this herb have, however, used turmeric extracts that contain mostly curcumin itself, with dosages usually exceeding 1 gram per day. It would be very difficult to reach these levels just using the turmeric spice in your foods, therefore, if you want to experience the full effects, you'd need to take an extract that contains significant amounts of curcumin. [5] Furthermore, since curcumin is poorly absorbed into the bloodstream, it helps to consume black pepper with it. The piperine in black pepper enhances the absorption of curcumin by 2000%.
If you'd like to further boost your health through nutrition coaching, Urban Fitness Solutions can help. We're experienced, mobile personal trainers and healthy eating coaches who work with people 45 years and up to improve health and wellbeing though outdoor exercise and developing healthy, sustainable eating and lifestyle habits. If you're in need of some health coaching in this area contact us.
[2] Gruenwald, J., Freder, J. and Armbruester, N. (2010). Cinnamon and Health. Critical Reviews in Food Science and Nutrition, [online] 50(9), pp.822-834. Available at: https://www.ncbi.nlm.nih.gov/pubmed/20924865 [Accessed 7 Mar. 2018].