Yoga for Back Pain
Suffering from lower back pain? The answer may be downward dog!
Yoga may actually help to relieve back pain, according to a recent study. [i]
Published in Cochrane Library, the study found yoga may help with back-related function. The systematic review found yoga may lead to reduced pain and improved function in people with chronic non-specific lower back pain compared with no exercise in the short term.
While more studies are needed on the long-term effects, the study found yoga resulted in small to moderate improvements in back-related function over three and six months. Conducted by University of Maryland School of Medicine, the study looked at 12 randomised trials from around the world using yoga for chronic non-specific lower back pain.
Lower back pain is a common health problem with the vast majority having an unknown cause, in Australia, about 3.7 million people have back problems and up to 90 per cent of people will suffer from lower back pain in some form at some point in their lives, according to the Australian Bureau of Statistics. [ii]
This study looked at yoga to not doing any back-focused exercise, or to other forms of exercise.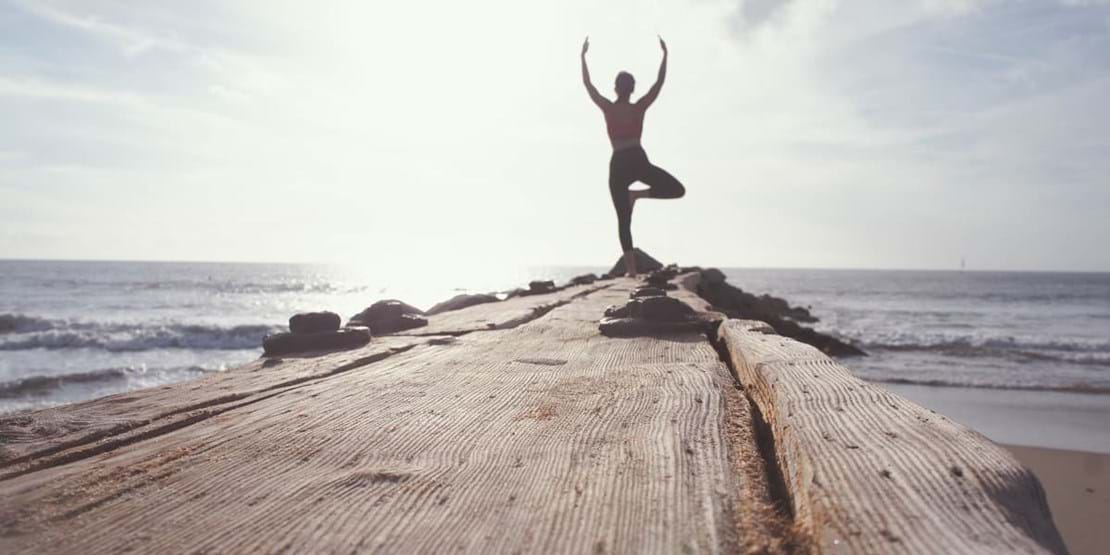 Strengthening
Yoga helps to increase strength in very specific muscles and muscle groups.
Many yoga postures help to gently strengthen the muscles in the back, as well as the abdominal and core muscles.
Back and abdominal muscles are essential for the health of the spine and lower back area.
Stretching
Stretching can help to reduce tension in muscles. During a yoga pose, certain muscles flex and others stretch helping to relax the muscles and promote flexibility in muscles and joints.
Posture & Balance
Yoga practice can help to improve posture and sense of balance, with head, shoulders and pelvis in proper alignment.
Proper body alignment and good posture helps maintain the natural curvature of the spine and can be important for reducing or avoiding lower back pain.
Get Expert Help
Check with your doctor before increasing the intensity or nature of your workouts. Once you have clearance, talk to your Urban Fitness Solutions trainer about exercises and dietary changes that might help with your health.
At Urban Fitness Solutions we empower people over 45 to achieve optimal health, vitality and personal fitness goals. Our qualified mobile personal trainers specialise in creating one on one training programs that provide you with the motivation and support to be the healthiest you can be.
At Urban Fitness Solutions we promote a holistic approach to your nutrition, emotional well-being and physical health to ensure you enjoy the quality of life you deserve.
If you're based in Melbourne, contact our friends at Fairfield Wellness for yoga or additional back pain related advice.
References
[i] Wieland LS, Skoetz N, Pilkington K, Vempati R, D'Adamo CR, Berman BM. Yoga treatment for chronic non-specific low-back pain. Cochrane Database of Systematic Reviews 2013, Issue 7. Art. No.: CD010671. DOI: 10.1002/14651858. CD010671. https://www.ncbi.nlm.nih.gov/pubmed/28076926